Dear customers,

as a responsible company we would like to inform you about the current state of affairs within the PVF / NBC Group. We assure, that PVF / NBC is fully functional. All five NBC production sites worldwide are open and work as usual in three shifts. All shipping departments are open and work as usual. Shipping is smooth worldwide. All goods are shipped on time. All sales staff are healthy and we work with full staff. We are available as usual between 8 a.m. and 5 p.m. by telephone and email. // READ MORE //

Your PVF Mesh & Screen Technology Team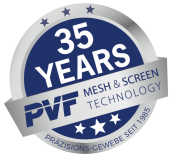 THE PVF GMBH
MESH & SCREEN TECHNOLOGY
PVF GmbH, which is headquartered in Mark Schwaben near Munich, is an internationally operating German family business that specialises in producing precision meshes. Being a leader in mesh technology, PVF has been setting global standards for over 35 years as a problem solver who is totally customer oriented. PVF provides innovative screen printing meshes, industrial, support and filtration meshes, filter components as well as ready-made products for the filtration and separation sectors, all of which are customisable.
Being a provided of precision meshes we are able to provide what few others can offer: a perfect product range for the most demanding applications. Our portfolio includes:
Innovative NBC screen printing mesh from Polyester to V-Screen and up to Stainless Steel and Tungsten. Precision screens for technical screen printing.
Since 1985
Being a family-run company, we attach great importance to trusting cooperation with our business partners. Our priorities are quality, customer satisfaction, company growth and employee satisfaction. Naturally this also applies to our supplier of precision meshes and this is reflected in our 35-year partnership with NBC Meshtec, Inc., Japan, who is our premium mesh manufacturer.
Broad & deep
product portfolio
98%
customer satisfaction

Absolute specification
constancy & reproducibility
DO YOU HAVE QUESTIONS?
WE ARE LOOKING FORWARD
TO YOUR CALL OR E-MAIL.