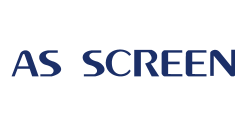 NBC ADDITIONAL PROCESS FOR EXTRA FUNCTION
Anti-Static resin coated polyester monofilament mesh
AS-Screens special resin coated high modulus polyester mesh which has permanent antistatic properties effective throughout the printing process. It minimizes static charge electricity and prevents pin-holes and ink splashing. Emulsion and capillary films adhere well to this mesh. AS-SCREEN is available up to 160 cm / 63″ wide upon request.
Reduce your Ink consumption
by 20 – 30 % with CATEX! 
ONE-SIDE CALENDARED POLYESTER MONOFILAMENT MESH
CATEX mesh reduces your ink consumption by 20 – 30 %. Especially designed for high production clear coating where a minimum ink deposit is a priority. CATEX can also be helpful when printing back-lighted panels where uniform ink deposit is extremely critical. CATEX mesh is available for width up to 240 cm.